WINE FLIGHTS
We offer 4 different sets of wine flights! There will be a sweet, semi-sweet, semi-dry and a dry option!
Featuring assortments of Apple, Golden Scuppernong, American Jubilee, Dixie Red, Red Muscadine,  Midnite Gold, Rosie Twilight, Toluca Red, Blueberry, Blackberry, and Carolina Jubilee!
Wine flights are $10 dollars and includes 6 samples, a WoodMill Winery logo glass and a half of glass of wine of your choice!
You may also purchase wine by the bottle or glass to enjoy here on site.
We welcome our guests to bring friends and family along with a picnic lunch to enjoy with a chilled glass or bottle of wine while viewing our peaceful surroundings. Our facility can accommodate large groups for wine tastings upon requests.  During wedding season we recommend our guests to arrive prior to 4 pm on Saturdays.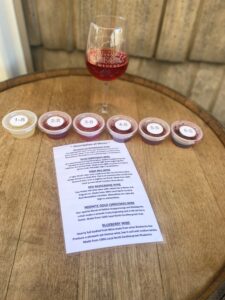 ---
WINE SLUSHIES
Our wine Slushies use Woodmill Wines blended with juice to make different fun and bright flavors. To enjoy on a warm sunny day or Just when your in the mood for a nice cold wine slushie.
Slushies will be available in 12oz and 16oz disposable cups if you would like to enjoy them here on our outside covered deck.
***??DISCLAIMER??***??Please drink responsibly!??***
Woodmill Winery does NOT under any circumstances condone consuming slushies while driving. These slushies are wine-based, and it is ILLEGAL to drink them while driving.
Wine Slushie Prices:
12oz cup – $8
16oz cups / sealed container – $10
??????????????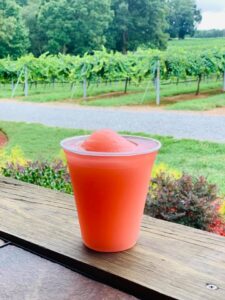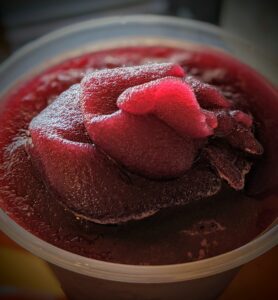 Thank you for understanding. Please continue to support local business in this hard time.
???We ONLY allow ADA Considered Service animals on our property???
Please give us a call as to what we offer at this time! (704)-276-9911